Live Learn Launch Lesson Example:
Find below an example of a LLL lesson. The sections within this lesson are required fields and the layout will look like the lesson below for every lesson. Creators will access a template where they will enter in any images, links, descriptions, or documents that they have for the lesson. The software will arrange it into the format seen below. Creators will then submit to the LLL team for approval. Once approved, the lesson will go live for access by the community. NOTE: some of the components in the lesson below are not actual but are images for demonstration only. Some links may or may not go to expected location.
In this Unit of Study on Ants learners will be introduced to the life of ants. Through a number of curricular areas learners will learn everything from the life cycle to what keeps ants busy throughout their life. Discover what kind of work ants do, socialization and community make up. Check out different ant colonies and learn how to create one in your own backyard! Learners will explore the different types of ants and how to best observe them. Learners should find the life of ants exciting and be able to share interesting stories about ants as they see them. They will also have the opportunity to answer questions about ants and develop their own questions as extensions to this unit.
Required Supplies:
- Internet Access
- Printer and Paper
- Coloring Supplies
Optional Supplies:
- Internet Access
- Printer and Paper
- Coloring Supplies
Subject Areas Explored:
Numeracy:
​
In this video, you see how organized ants can be in their colonies and how they undertake incredible engineering feats!
52:34
National Geographic gives you an inside look in the ant world's deadliest insect. The Micofideous Ant.
24:26
Watch the ultimate guide to ants! Everything you wanted to know but were afraid to ask about these smart insects.
32:14
Not all ants are tiny! Watch National Geographic Kids explore the word on monster ants.
13:56
Podcast: Why Ants Handle Traffic Better Than You Do
Unless there's a serious pileup, ants in traffic tend to bypass a collision and just keep going. A physicist has found a way to model this behavior with a mathematical equation.
Source: NPR, 3:21
Sound Bites: Listen to Ants As They Walk
The everyday ant seldom gets close enough to a microphone to be amplified and heard but 'The World According to Sound' podcast manages to let us listen to the insects as they go about their day.
Source: NPR, 1:32
Radio: Exploding Ants!
Kamikaze ants blow themselves up and cover their victims with killer slime
Source: CBC, 6:55
Song: The Ants Go Marching One By One
Famous children's song from 1943 that has a VERY catching melody that might have you singing it for days!
Source: KidsSongs, 0:32
Ants are facinating to watch and here is a great way to do that! No need to buy an ant farm when you can do it yourself! Download the PDF lesson to learn how to make and take care of your ant farm.
​
Ants have a simple anatomy so they make a great specimen for building. Follow this link to the anatomy of an ant and build one as simple or as complicated as you want with recycled stuff around your house.
​
Mother Nature's Pop Science Guide to Ants [Infographic]
Ants outnumber, outweigh and outwork humans, yet we rarely give them a second glance — unless they're raiding our pantries or ruining our picnics. In honor of this tireless, thankless dedication, MNN offers a graphical tribute to the awe-inspiring antics of ants.
Ants live in intricate communities, made by their own hard work. Learn how ant colonies organize their homes.
The first letter of the alphabet starts off the name of our lesson insect. A great visual example of the letter "A" and the common ant.
Ants, like caterpillars, go through quite a bit of change in their lifetime. Learn about the stages of the common ant in this simple and instructional worksheet.
Time to learn about ants! In this short story, you will learn many facts about ants and then have the opportunity to test your comprehension.
Please reload
Ants have simple anatomies but there are still many pieces that make the whole. Take a more detailed look at the make up of the ant and label the parts of their body correctly.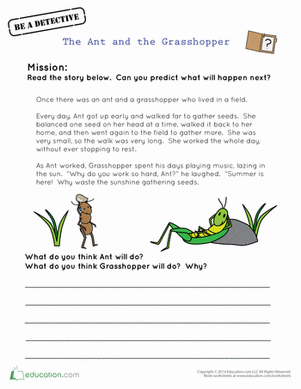 The Ant and the Grasshopper
Explore the famous story of the ant and the grasshopper. Many life lessons can be taken from these two insects but with this worksheet you can try and figure them out yourself.
The Ant Colony is an amazing design. Learn more about the areas within an ant colony and how they help the ants stay organized.
Time to learn more about ants and test your comprehension. Read this ant story and answer questions to see how much you remember and have learned.
Please reload
Ants Cant Pant
Grab a friend and see who can come up with the most words that have the word "ANT" in it. Then see if you can create sentences using just hose words.
​
Download the full exercise description HERE.
The Weakest Link
Did you know that ants can hold a chain for as long at 50 ants long? Choosing from a list of supplies, see how long of a chain you can create before it breaks.
​
Download the full exercise description HERE.
Green Ants?!
Test the ants reaction to different foods. You can place ants into a large plastic tub. Place different foods in the corners and see which the most ants go to.
​
Download the full exercise description HERE.
Path of Least Resistance
Ants are clever. Try and guess and see what route the Ants will take when you put a series of obstactles in front of them to get their food.
​
Download the full exercise description HERE.
Build an Ant Hill
Ant hills are the entrance to the ants colony and can grow to very large sizes. Read about the construction of an ant hill and grab your friends to see if you can do as good of a job as these tiny insects.
​
Download the full exercise description HERE.
Instagram
@antscanada
Ants are the focus on this Instagram account. Sightings, fun facts and crazy pictures of our 6 legged friends.
Facebook
@Antsrule
Besides humans ants are the only species who take slaves, domesticate other animals or plant crops.
The ant colony is full of surprises. Take this test to see how much you learned about the colony and organization of the ant family.
Test your knowledge on all things relating to an ant's anatomy. Answer questions and draw pictures.
Please reload
There's so much to learn about this little 6 legged insect. Test your knowledge on all things ants!
There is so much to learn about ants that we needed another test to cover it all! Test your knowledge and see what you can remember from the lesson!
Please reload
Live Learn Launch Ant Badge #25
You deserve it! You earned it! This iron on badge is 2 inches by 2 inches and will showcase you've learned all about ants!
Please reload
Have questions, suggestions, or kind words to say about this lesson? Contact them directly!